Aprilaire & Honeywell Thermostats
Installation, Upgrades, Replacements, Programming
We install, replace, upgrade, and service a large diversity of thermostats, relays, switches and timers from leading manufacturers, such as Honeywell and Aprilaire. As a well established New Jersey HVAC contractor with many years of experience, our licensed technicians install and service the widest variety of home comfort control products, selected to increase your enjoyment of your home while being long lasting and easy to use. With the thermostats we install and service we cover both residential and commercial applications:
Aprilaire Home Thermostats

Aprilaire Thermostats control not only your home's heating and cooling, but your overall comfort. Few homeowners spend much time thinking about thermostats and which one is right for their home. But perhaps they should, because a properly designed thermostat can do much more than just turn your heating and cooling system on and off. At Aprilaire, we view thermostats as your easy-to-use command center that lets you control and customize your entire home's comfort experience.
That's why Aprilaire created an entire family of digital thermostats to meet just about any home's specific needs. Constructed with the latest technology and filled with Aprilaire innovation, these thermostats give you entirely new levels of control over your heating and cooling system and your overall home comfort.
The Aprilaire programmable thermostats and zoning products help by controlling the temperature of your home where you need it, when you need it; saving you up to 30% on heating and cooling costs. Programmable thermostats help qualify your home for the Green-Built Certification Program of the National Association of Home Builders.
Core Benefits
Comfort - Precise control, ease of use and with Aprilaire Programmable Thermostats, being able to program your thermostat around your schedule allows you to enjoy hassle free performance while enhancing your home's comfort level.
Energy Savings - Heating and cooling costs are the #1 expense in most American homes, with the average home spending about $1,500 annually on energy bills. All of Aprilaire Programmable Thermostats are Energy Star Rated — and according to the Environmental Protection Agency (EPA), a programmable thermostat can save you up to 30% on your energy costs.
Enhance the comfort throughout your home and save on energy costs at the same time with an Aprilaire Thermostat. All Aprilaire Thermostats operate electronically / digitally. Unlike mechanical thermostats, Aprilaire Thermostats are mercury-free and provide you pinpoint accuracy and control.
There are several models of Aprilaire thermostats designed to satisfy your family's specific needs: Aprilaire Programmable Thermostats, Aprilaire Non-Programmable Thermostats, and Aprilaire Communicating Thermostats. Modern home automation has to include HVAC! Today's state-of-the-art homes include complete automation systems for lighting, sound systems, video, security and more. Aprilaire let's you integrate all of your heating and cooling controls into a completely automated solution.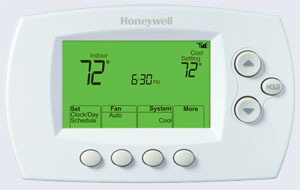 Honeywell Programmable Thermostats - Digital and Mechanical
Honeywell programmable thermostats are easy to use, accurate to +/- 1 F, and fit nicely into any home decor. Our broad selection meets most applications to provide maximum comfort and energy savings.
Honeywell Non-Programmable Thermostats - Digital and Mechanical
Classic, simple and accurate comfort control. Choose from The Round ® thermostat that just celebrated its 50-year anniversary, to our newest Digital Round™ thermostat, and many others.
Honeywell Wireless Thermostats
Wireless System Kits, Wireless Thermostat Kits, Wireless Zoning Adapter Kits, Wireless FocusPRO® Thermostats, Wireless System Additions
Honeywell Heating Relays
Electromechanical Relays, Heat Pump Add-on Relay, Solid State Relays

Honeywell Residential Switches and Timers
Switches, Timers for lights and motors
Related subject matter: electronic thermostats, programmable thermostats, wireless thermostats, honeywell thermostat, aprilaire thermostat, thermostat replacement, thermostat installation, nj thermostat installer