AC Duct Cleaning, Ductwork Cleaning Services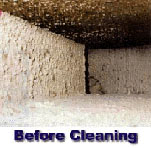 Heating and air conditioning ducts which are dark, damp provide an excellent breeding ground for mold, fungi and dust mites. These allergens can spread rapidly. The air ducts are used to heat and cool the house, thus the allergens in the ductwork are blown into your breathing space continuously. Mold and fungi can cause discomfort, infections, and allergic reactions. By cleaning your HVAC system you will remove allergens like dust and mold from the duct work as well as residue from cigarette smoke. Scheduling basic air duct cleaning services every few years, will significantly improve your breathing and your long-term health.
Health Concerns
The US Environmental Protection Agency - EPA ranks indoor air pollution among the top 5 environmental dangers to the public and studies show that two out of three indoor air quality problems involve the HVAC/Air Duct System. Children and the elderly are especially affected by polluted indoor air and over 20% of all illnesses are either caused by, or aggravated by, polluted indoor air. However, this percentage appears less surprising in view of the fact that the levels of some hazardous pollutants indoors have been found to be up to 70 times greater than in the outdoor air.

Residential and Commercial Air Duct Cleaning
When it comes to air duct cleaning whether residential or commercial, we provide excellent workmanship and the most competitive prices in New Jersey and the New York metropolitan area. We have 2 different air duct cleaning methods we use to help rid your air ducts of dust, allergens, pollen, pet hair and more from your air vents and ductwork so you can breathe easier.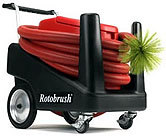 The Rotary Brush Method ( Rotobrush) is our preferred and most popular method of air duct cleaning. We will clean ALL the ductwork in your home and also inspect your furnace and A/C at no additional charge. The Air Sweep Method is a more economical yet very effective means to clean air ducts. This Air Duct Cleaning option also includes an inspection of your furnace as well a free air conditioner cleaning and check-up. Whichever method you select, your satisfaction is assured. We will perform the job on time, on budget, and in the clean, professional manner which, for decades, has become our established standard.
Why waste time and money experimenting with air duct cleaners that do over-priced, poor quality work? Hire us and become a member of our large family of satisfied ductwork cleaning customers.