Ductless Mitsubishi AC, Economical Mini Split AC: Installation & Service, NJ
Solve your Space, Noise, and Capacity Issues while Saving on Energy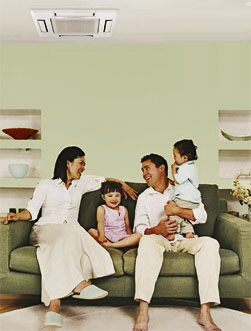 Ductless AC Residential Applications:
We supply, install and replace Mitsubishi ductless AC systems, the most advanced and economical ductless AC in the world. Ductless technology is ideal for homes where it's difficult or not desirable to use window air conditioners and homes where there is no space for duct work or ducting is too expensive. The most common and perfect applications for a Mini Split AC are: renovations / restorations, additions, bedrooms, workshops, home offices, enclosed porches, garages, sunrooms, and basements. It is also a great solution for historic properties where architectural integrity must be preserved.

A Mini Split AC can operate in two different ways. First as a standalone system for the entire house and second, as a supplemental system, adding cooling to rooms or areas where the installed AC is not sufficient. Furthermore, the Mitsubishi system has a built-in dual personality. It functions as an AC in the summer and as a Heat Pump in the winter, and all of this at an energy efficiency unparalleled in the world.
The Mitsubishi Systems Are Far Superior to Traditional HVAC Systems:
Homeowners report an instant improvement in their electric bills

The units are up to 40 percent more efficient than window air conditioners

They do not waste energy starting and stopping all day like traditional heat pumps

No energy is wasted cooling or heating unoccupied rooms

Every unit utilizes environmentally friendly refrigerant that has zero Ozone Depletion Potential (ODP)

Our units utilize a multi-part filtration system with an optional a blue-enzyme, anti-allergen filter designed to reduce allergens, dust, pollen, viruses, and bacteria from the air your family breathes

Both the indoor and outdoor units operate quietly - some as low as 19dB(A) - quieter than a human whisper

Mitsubishi Electric cooling and heating systems deliver complete remote access and control, no matter where you are in your home, or where you are in the world.

The Mitsubishi Mini Split At-a-Glance
Many of our systems are ENERGY STAR qualified and may be eligible for local utility rebates.
There is no need to heat and cool every room in your home all year long, when you only occupy a few rooms at a time. Don't try to control your entire home with a single thermostat. Instead, achieve total comfort on demand while saving money and reducing your energy consumption at the same time with a zoned solution from Mitsubishi Electric.
Ductless AC Commercial Applications: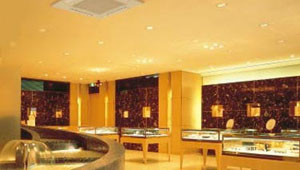 We also replace and install Mini Split AC systems for industrial / commercial environments such as: Warehouse offices, computer rooms, restaurants, sports arena skyboxes, nursing homes, multifamily housing, hospitals, churches, community facilities, offices, universities, and any cooling and/or heating a space where adding ductwork is impractical or too expensive. There's a mini-split AC to fit just about any installation, from single rooms to expansive spaces. Our single, dual and tri-zone models offer an impressive array of capacities in both A/C and heat pump models, and we also offer ceiling cassettes.
Advantages of a Mini Split AC
Instead of metal ductwork, a ductless AC uses refrigerant pipes that require just 1/10th the space of conventional central air conditioning ducts.

A mini split AC saves up to 30% of the utility bills.

A ductless AC install requires no major remodeling.

Mini splits systems save money on installation.

Perfect for older homes with limited space, and historic properties where architectural integrity must be preserved.

The system is also convenient for new homes since it works well with in-floor radiant heat and, due to absence of bulky ductwork, allows more design and space flexibility.

It also can greatly reduce energy bills in numerous commercial applications.

Mini split AC technology ensures super-quiet cooling and heating.

The Mini Split AC system is designed to mix air very thoroughly so that temperatures remain the same from floor to ceiling for a very even comfort.
For residential installations we can provide a broad range of the most energy efficient and reliable ductless AC systems on the market from manufacturers like : MITSUBISHI, DAIKIN, SANYO, FUJITSU, and LG.
As far as commercial Mini Split AC's, the most efficient and proven Ductless AC in the world are the Mitsubishi Commercial HVAC systems. CITY MULTI, the first simultaneous cooling and heating multi -split zoning commercial HVAC system for the United States, provides you with the utmost in flexibility and freedom. Regardless of the building size, the system manager can provide each individual space with its own personalized, zoned comfort system and realize energy savings in the process.
Another option for Mitsubishi commercial users is Mr. Slim's split-ductless P-Series, designed to fit various wall-mounted, ceiling-suspended, and ceiling-recessed applications. The Mr. Slim P-Series offers:
Convenient zone control

Quiet operation

Humidity control

Zero degree ambient operation

Automatic cooling/heating changeover

Auto-swing vane or louver controls

Ready-charged system

Hot-start system

Each system also includes a wired intelligent remote controller.
For either product solution the key to comfort is the inverter technology, which includes a variable speed compressor for precise comfort control. The inverter technology varies the speed of the compressor to deliver the exact amount of cooling or heating demanded by each zone. A mini split AC is designed to air-condition or heat individual spaces or zones. A zone may include one or more offices or work areas, or one or more rooms in your house. You can use a ductless AC to air-condition your entire building, or your whole residence. It will always save money and it will prove to be a real life saver , when there is no space for ductwork to be found.
NJ Heating and Air Conditioning Service Map: Passaic County, Morris County, Essex County, Hudson, Union, Middlesex, Mercer, Somerset, Hunterdon, Warren, Sussex, Bergen County, New Jersey, Allendale 07401, Alpine 07620, Basking Ridge 07920, 07939, Bloomfield 07003, Boonton 07005, Brookside 07926, Budd Lake 07828, Butler 07405, Caldwell 07006, Carlstadt 07072, Cedar Grove 07009, Cedar Knolls 07927, Chatham 07928, Chester 07930, Cliffside Park 07010, Clifton 07015, Convent Station 07961, Cresskill 07626, Demarest 07627, Denville 07834, East Hanover 07936, Elmwood Park 07407,Englewood Cliffs 07632, Essex Fells 07921, Fair Lawn 07410, Fairfield 07004, Flanders 07836, Florham Park 07932, Franklin Lakes 07417, Garfield 07026, Gillette 07933, Glen Ridge 07028, Hackensack 07601, Harrington Park 07640, Haskell 07420, Hawthorne 07506, Ho Ho Kus 07423, Kinnelon 07405, Lake Hiawatha 07034, Lincoln Park 07035, Little Falls 07424, Livingston 07039, Madison 07940, Mahwah 07430 , 07495, Mendham 07945, Millburn 07041, Montclair 07042, Montville 07945, Morris Plains 07950, Morristown 07960 , 07961, Mountain Lakes 07046, North Caldwell 07006, North Haledon 07508, Nutley 07110, Oak Ridge 07438, Oradell 07649, Paramus 07652, Pequannock 07440, Pompton Lakes 07442, Pompton Plains 07444, Prospect Park 07508, Ramsey 07446, Randolph 07869, Ringwood 07456, River Edge 07661, Roseland 07068, Rutherford 07070, Saddle Brook 07663, Upper Saddle River 07458