Commercial Air Conditioning – Northern NJ: Bergen, Morris, Essex, Passaic
Installation, Maintenance and Emergency Service

Work with a Commercial HVAC Contractor You Can Trust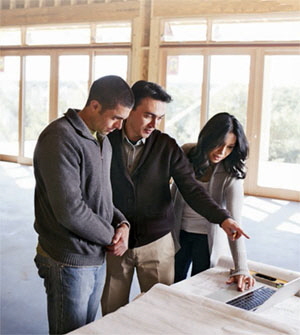 When it comes to your commercial air conditioning needs, you can count on our decades of experience to service your needs from new Commercial AC installations, to AC equipment maintenance and 24/7 emergency service. No job is too big or too small for us. We are NJ certified air conditioning contractors and have the expertise to design and develop your HVAC plans and to install and service your commercial ventilation and air conditioner systems. We can expand your current capacity, adjust, repair, or replace your existing cooling systems and ensure not only your comfort but also the lowest energy bills possible.
Why go anywhere else? We have knowledgeable certified technicians; a fleet of vehicles we can put at your disposal; a continuously updated database for tracking your service history; a well-stocked inventory of parts and equipment, and a tradition of excellent customer service. We're fast an dependable. We know our success is based upon your satisfaction, and we are ready to work hard to win and maintain your loyalty. You can truly count on our commitment to excellence.
We'll Install Your New Commercial Cooling System
When your current equipment is ready to be replaced, we will remove it and install the next generation of equipment in its place. Our technicians are trained to:
Trane RoofTop Air Conditioner

Coordinate the removal of the old equipment with the delivery of the new
Remove existing mechanical systems, duct work, and piping
Assemble, install, and operate the widest variety of HVAC systems
Install electrical, pneumatic, and electronic assemblies and controls
Adjust for humidity and temperature control
Complete the welding, wiring, and placement of pipes, tubes, fittings, and meters
Complete all work in accordance with local ordinances and federal and state regulations related to environmental protection and safety
Once we've completed the installation of your new commercial HVAC systems, our technicians will start it up, run it, measure its output, adjust it, and ensure that it's operating at or above the manufacturer design specifications. We put it in and we stay until we're sure it's running right. We'll stop back later, too, to make the minor adjustments it takes to get your system operating at peak efficiency.
We'll Respond Promptly to Your Emergency, with Speed and the Right AC Supplies
Our fully equipped fleet of vehicles can be dispatched at a moment's notice to address your emergency. We are able to communicate with our technicians on the road. We quickly access your company's service history and equipment needs, and readily prepare the right parts for your job.
We'll Do Regular HVAC Service Maintenance to Ensure Reliable Functioning
We encourage regular HVAC service maintenance for your commercial air conditioning systems, to prevent outages and malfunctions and to extend the life of your equipment. When you join one of our preventive maintenance programs, we'll visit regularly to make sure your equipment is maintained according to the manufacturer's recommendations. Among other things, we'll test for and repair leaks; drain lines; check fluid and lubricant levels; lubricate motors and bearings, check relays and contractors, remove worn hoses and belts and install new ones; tighten loose parts; clean dirty areas, and make repairs. Through lower utility bills and significantly longer equipment life, each of our service contracts pays for itself.
Popular Types of Commercial Air Conditioner Systems:
Trane Commercial Air Conditioning systems
Trane Commercial Chillers, Commercial Airside and Terminal Devices and Commercial Unitary AC units
Luxaire Commercial Split System Heat Pumps
LUXAIRE
We are proudly installing and servicing Luxaire light commercial heating, ventilating, and air-conditioning products. Our quest for top technology is evident in the Luxaire line of energy-efficient residential and light commercial heating and cooling systems. In addition to high quality commercial heating and air conditioning products, we're committed to giving you the "Performance Promise" of superior service and support. Efficient, reliable heating and cooling solutions backed by courteous service with a smile makes us the smart choice for homeowners, and business owners looking to make a sound investment.
Rheem Commercial Air Conditioning systems
Rheem Commercial Air Conditioners, Commercial Air Handlers, Commercial Condensing Units, Commercial Cooling Coils, Rheem Commercial Heat Pumps and Commercial Self-Contained Cooling
Related topics: commercial air conditioning, upgrade, repair, service, installation, nj commercial hvac, nj commercial ac contractor, nj commercial ac installer, nj commercial cooling nj hvac contractors, nj hvac repair, nj heating contractors, nj heating repair, nj air conditioning contractors, nj air conditioning repair, nj hvac contractor, nj hvac repairs, nj heating contractor, nj heating repairs, nj air conditioning contractor, nj air conditioning repairs, air conditioning technician, heating technician, heating air conditioning repair, heating air conditioning installation, heating air conditioning service, heating air conditioning maintenance, trane heating air conditioning, air conditioning replacement, commercial air conditioning repair, heating and air contractors, heating and ac contractors, emergency service, emergency repair, energy performance upgrades, preventive maintenance, equipment replacement