Refrigerant Leak Testing - Northern NJ, Bergen, Morris, Essex, Passaic
Air Conditioning & Heat Pump Refrigerant Leak Detection and Repair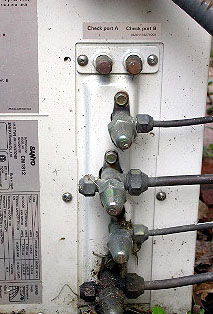 An air conditioning installation or heat pump utilizes a completely sealed system filled with refrigerant. Normally the refrigerant does not have to be replenished, unless a leak develops and the refrigerant level is low or zero. As a quick short term solution, the refrigerant can be replenished. However most often the most economical solution is for the place of the leak to be identified, and the refrigerant leak to be fixed, as soon as it has been detected. For example instead of sending people home from a commercial building which lost its cooling, refrigerant can be added to quickly resume air conditioning and reestablish working conditions. However, this is a short term solution, and for proper repair, we can use our extensive experience to locate the leak and permanently fix the system.
Our HVAC technicians will help you with the testing, detection, and repair of refrigerant leaks in any air conditioning or heat pump systems. We are specialists in refrigerant leak repairs for the HVAC cooling coils, evaporator coils, copper tubing, valves, access ports, etc. Our 24/7 emergency service vans are equipped with all the refrigerant leak detection tools to get the job done quickly and economically. Once the place and the size of the leak have been identified, we present you with the most economical options, in an effort to save you money. Some possible scenarios are presented below:
Refrigerant Leak in the Valve or Access Port
If the refrigerant gas leak is in a valve or access port, the valves can be easily cleaned or replaced with minimum effort. Although, replacing a refrigerant service port valve requires soldering, our service vans are fully equipped to perform the operation, and our certified technicians will do it quickly and economically.
Refrigerant gas leak is in the copper tubing
If the refrigerant gas leak is in the air conditioning or heat pump copper tubing re-soldering using high silver content solder and a high temperature torch would fix the leak. A damaged section of refrigerant line may need to be cut out and replaced. .
Refrigerant Gas Leak in the condensing coil or in the evaporator coil
If the refrigerant gas leak is in the condensing coil or in the evaporator coil, repair might be possible, depending of how accessible the leak point is. As a last resort, the air conditioning unit can be fixed by replacing the old leaky coil with a brand new one.
Refrigerant Leak is due to Severe Corrosion
If the refrigerant leak is due to severe corrosion anywhere in an HVAC system then a solder repair is not possible because of thinned and weakened parts. Even if soldering is performed, the repair may not last long since a leak may spring in an adjacent area of the system. For this reason, in case of advanced corrosion leaks, we recommend replacement, as the most economical long-term solution.
Related items: Refrigerant leak testing, repair, refrigerant leak test, refrigerant leak repair nj hvac contractors, nj hvac repair, nj heating contractors, nj heating repair, nj air conditioning contractors, nj air conditioning repair, nj hvac contractor , nj hvac repairs, nj heating contractor, nj heating repairs, nj air conditioning contractor, nj air conditioning repairs, air conditioning technician, heating technician, heating air conditioning repair, heating air conditioning installation, heating air conditioning service, heating air conditioning maintenance, trane heating air conditioning, air conditioning replacement, commercial air conditioning repair, heating and air contractors, heating and ac contractors, emergency service, emergency repair, energy performance upgrades, preventive maintenance, equipment replacement