Mitsubishi Split AC & Heat Pump - Most Economical HVAC System Anywhere
Ductless Air Conditioner / Split AC Install or Replace, Repair or Service
Most Efficient AC Technology in the World !!!!!!!
A ductless, split air conditioner system or mini splits have numerous potential applications in residential, commercial, and institutional buildings. The most common applications are in multifamily housing or as retrofit add-ons to houses with "non -ducted" cooling or heating systems. Split air conditioners can also be a good choice for room additions and small apartments, where extending or installing distribution ductwork for a central air-conditioner or heating systems is not feasible.
Advantages of a split air conditioner

The main advantages of split AC installations are their small size and flexibility for zoning individual rooms. A split air conditioner can have many indoor air handling units or zones connected to one outdoor unit. The number depends on how much heating or cooling is required for the building or each zone. Since each of the zones will have it's own thermostat, you only need to condition that area when someone is there. This will save energy and money.
Since they are ductless, split air conditioners are also often easier to install than other types of space conditioning systems. For example, the hook-up between the outdoor and indoor units generally requires only a three inch hole through a wall for the conduit. Also, if necessary, you can locate the outdoor unit as far away as 50 feet from the indoor evaporator. This makes it possible to cool rooms on the front side of a building with the compressor in a more advantageous or inconspicuous place in the back of the building.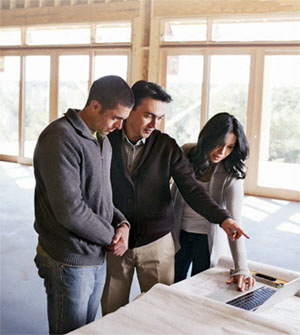 Since split air conditioners have no ducts, they avoid the energy losses associated with ductwork of central forced air systems. Duct losses can account for more than 30% of energy consumption for space conditioning, especially if the ducts are in an unconditioned space such as an attic.
In comparison to other add-on systems, split AC systems offer more flexibility in interior design options. The indoor air handlers can be suspended from a ceiling, mounted flush into a drop ceiling, or hung on a wall. Floor-standing models are also available. Most indoor split AC units have profiles of about seven inches deep and usually come with sleek, high-tech-looking jackets.
Disadvantages
The primary disadvantage of split air conditioners is a bit higher initial cost per ton of cooling capacity. However this small extra investment will be offset many times over by utility bills that can be 30% to 40% less, year after year, due to much lower transmission loses. It will also be offset by the savings generated by eliminating all duct work, and by the health advantages of the higher quality air you breath.
We are proud of our long history of being expert installers and service people for split air conditioner systems. Email or call us today for a FREE evaluation.
Split Air Conditioner vs. Window Air Conditioner
A window unit is a packaged system. That is, the indoor and outdoor fan coils and compressor are contained in the same box, with the back half of the box sticking outside while the front half is inside. This is important to allow the physics of air conditioning to take place. Window units or wall units are very popular because they provide an inexpensive means for room cooling. The drawbacks include the loss of a window and the vibration and noise that the system can produce. Most of the noise occurs by the compressor which is so close to your living space.

With a split air conditioner, the indoor unit and the outdoor unit, which houses the compressor, are separated. With the ductless Air conditioner / split AC design, you don't lose a window because the indoor unit mounts high on your wall and the outdoor unit is placed far enough away from your room that you never hear the compressor. Both indoor and outdoor units of a split air conditioner are designed for quiet operation so even if the outdoor unit is placed outside your room you will not hear it running.