Split AC - Why is Mitsubishi's Mr Slim Ductless AC so Efficient and Popular?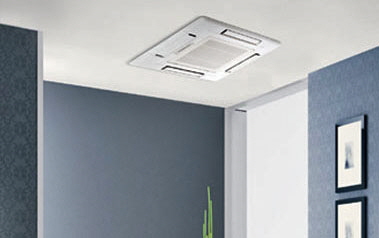 Split AC technology or the ductless air conditioner is the dominating form of air conditioning and heating worldwide. There are three four advantages that fuel the popularity of this technology: space, sound, energy, and capability of solving problems with existing HVAC systems.
Space
A split AC, or a ductless air-conditioner system brings perfect comfort to a room without the need of a bulky standard room unit or bulky and expensive duct work. A split AC can also be designed to cool several rooms, mimicking the sophisticated zone control of modern, space consuming central air conditioning. And you don't have to tear up your walls and ceilings to install it. Space is often at a premium and limited real-estate results frequently in designs of buildings where duct work cannot / or was not allowed to occupy valuable working or living space.
Sound.
Air conditioner noise, both outside the building and within the living or working space, is always a major concern. Over the years, the split AC has evolved greatly along these lines. Split ductless systems operate very quietly. In some cases the indoor units are running at only 26 dB(A). The second part of a ductless air conditioner which can generate noise because of the compressor is the outdoor unit. However, with our ductless air conditioner systems, like the Mr. Slim Split AC from Mitsubishi, the outdoor units are quiet enough to be placed underneath a window. This low noise level is accomplished partly because the compressor is isolated from the other parts of the unit and is cushioned very well to guard against vibration.

Extremely Efficient Mitsubishi AC Ductless System
Energy
Today the energy demand is great and getting greater and more harmful to our planet. There is tremendous pressure placed on the available energy resources available for us. A ductless air conditioner provides a true zoning solution and it is common practice to air condition only the spaces being occupied rather than an entire house regardless of occupancy.
All ductless products we install meet the efficiency requirement as established by the Federal Government's Department of Energy. Additionally, because the indoor unit is located in the space there is no "duct-loss" in a split AC, as there is with regular more wasteful central systems. Duct-loss means that energy is lost as air is forced through ductwork. Though there is not currently an agency that measures this loss, it is commonly agreed to be around 20%. On the flip side, the split AC systems that we install are extremely energy frugal and can reach an efficiency as high as 13 S.E.E.R
Solving problems with existing HVAC systems
Is the current central air conditioning system insufficient? Don't change it. Be economical and supplement its capacity with a split AC.
Do you have hot spots or cold spots with the existing HVAC system? You don't need a new system. A ductless air conditioner / heat pump can easily fix those problems and assure perfect comfort throughout your living or working space, at a minimum cost.