Hydro-Air Heating and Cooling - Installation, Repair and Maintenance
Home Comfort Systems for any energy source: Gas, Oil, Electric, Propane, and Solar
Our company offers full Installation, maintenance and emergency repair services for Hydro-Air Heating and Cooling Systems. We can install hydroair heating and cooling with optional radiant floor piping which circulates warm water from the home's water heater or boiler and optional snow/ice melt system for driveways or sidewalks.
"Total comfort" heating or cooling is delivered to thermostatically-controlled wall units in each room. Small flexible piping circulates water to the wall unit's hydronic fan coils for warm or cool air distribution, and also to an optional radiant floor heating system.
The Best of Both Worlds
The hydro-air heating system combines the benefits of forced hot air system with the advantages of circulating hot water home heating systems which function with moist air and thus result in significantly less drying for skin and hair. With a boiler as its heat source, the hydro-air system can produce domestic hot water. Like a forced hot air system, both warm and cool air can be delivered to each room via air ductwork. The hydro-air systems are among the most versatile and luxurious indoor comfort system available today.
Key Features:
Uniform, comfortable heating through circulating warm air

Air conditioning

Air cleaning

Great ventilation and fresh air recovery

Humidification

Abundant Domestic hot water supply

Baseboard radiators

Multi-zoned fan coils for heating & cooling

Radiant heating for floors, towel racks and sun rooms

Driveway snow melting

Unit heaters for garages & auxiliary buildings

Extremely flexible installations for large homes
From single-family homes and apartments, to large commercial complexes - new construction or retrofit — Hydro-Air™ systems provide reliable, efficient, comfort and environmentally sound heating, cooling, and domestic hot water.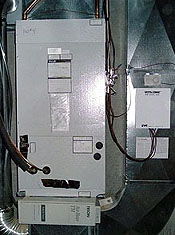 Winter Heating
In a typical application, your home's water heater or boiler is all you need to supply the energy for both heating and domestic hot water use. Durable, flexible piping installed in floors, walls, and ceilings distributes warm water to hydronic fan coil units located in individual rooms throughout the home. A standard wall thermostat activates the fan, which heats the room as air is drawn across the hot water coils. The water is then returned to the water heater or boiler to be re-heated and re-circulated in a continuous cycle.

Summer Cooling
For summer cooling, a standard outdoor air-conditioning unit is used to chill water that is circulated through the same piping system to the individual fan coil units. When the thermostat activates the fan, the room is cooled as air is drawn across cooled coils. The water is then returned to the "chiller" system, where it is re-cooled and re-circulated in the cooling cycle. When in cooling mode, the water heater or boiler is still available to provide hot water for domestic use.
Contact us today for more info of to install Hydro-Air Heating and Cooling Systems.
Related topics: Hydro-air heating systems, Hydro-air cooling systems, nj hvac contractors, nj hvac repair, nj heating contractors, nj heating repair, nj air conditioning contractors, nj air conditioning repair, nj hvac contractor, nj hvac repairs, nj heating contractor, nj heating repairs, nj air conditioning contractor, nj air conditioning repairs, air conditioning technician, heating technician, heating air conditioning repair, heating air conditioning installation, heating air conditioning service, heating air conditioning maintenance, trane heating air conditioning, air conditioning replacement, commercial air conditioning repair, heating and air contractors, heating and ac contractors, emergency service, emergency repair, energy performance upgrades, preventive maintenance, equipment replacement