Geothermal Heating and Cooling - Quick Installations and Service for
Geothermal Heat Pumps and Loop Systems in New Jersey
Geothermal HVAC - Full Services and Estimates for Geothermal Heating, Geothermal Air Conditioning,
Geothermal Hot Water in Residential and Commercial Environments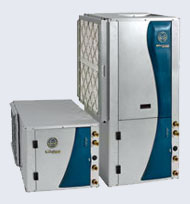 Our company is a geothermal contractor located in New Jersey. We offer geothermal HVAC services to NJ residential and commercial customers for a large diversity of applications such as Geothermal Heating, Geothermal Air Conditioning, Geothermal Hot Water, All in One / Whole House Geothermal Heating and Cooling, Pool and Spa Heating, etc.
Comfort NJ will work with you to determine the best heat source for your application and the best geothermal equipment to suit your needs and specifications. Our Certified Technicians have a very high level of training and expertise in HVAC systems for both residential and commercial installations, and they work hard to win and maintain your trust. With us geo thermal heating and cooling installations are easy and cost effective. Please see below our geo thermal services:
Geothermal heat pump and loop system installations by Comfort NJ - New Construction, Retrofitting, Replacements of older Geo Thermal Systems
Residential WaterFurnace Comfort Systems - All in One, Splits and Hydronic, such as 3-in-1 forced air heating and cooling systems, Hydronic units for high volume hot water applications, radiant floor, spa, pools, fan coils, Air Handlers to move air to and from the home

Comfort Aire Geothermal/Water Source Systems: geothermal heat pumps, Two Stage Geothermal, Two Stage Split Systems, Water-to Water Systems, Geothermal Accessories for residential and commercial applications

We install only Geothermal Systems that meet or exceeds Energy Star® guidelines

Closed loop systems that circulate a water-based solution through a "loop" of small diameter, underground pipes. In cold weather this solution absorbs heat from the earth and carries it to the geothermal unit.

Horizontal loops are often considered when adequate land surface is available. Pipes are placed in trenches, in lengths that range from 100 to 800 feet.

Vertical loops are the ideal choice when available land surface is limited. Drilling equipment is used to bore small-diameter holes from 75 to 300 feet deep.

Pond (lake) loops are very economical to install when a body of water is available, because excavation costs are virtually eliminated. Coils of pipe or a plate exchanger are simply placed on the bottom of the pond or lake.

Open loop systems utilize ground water as a direct energy source. In ideal conditions, an open loop application can be the most economical type of geothermal system.
Geothermal System Design Services by Comfort NJ
Our company offers quality geothermal system design and analysis for residential and commercial projects. From the early stages of site evaluation to the final project we help our customers to build an effective geothermal system for many years to come. Our specialists have the knowledge and tools to perform a comprehensive analysis and to design state of the art solutions. Our geo thermal design services include:
Loop field design - Closed or open loops, such as horizontal, vertical and pond / lake loops

Geothermal Heating and Cooling Unit sizing for optimum efficiency

Air flow calculations to ensure that each room has the proper amount of heating or cooling

Load calculations for proper sizing and installation

Geothermal design assistance to building contractors or consulting engineers involved in geothermal projects

Cost Analysis for Geo Thermal Installations

Advanced technologies, modern innovative engineering, state of the art design, robust high quality construction and great reliability
Advantages of Geothermal Energy - Why Does Geothermal Make Sense To Install at Your Home or Business?
A geothermal heat pump will save you a lot of money and energy if you live in your home for years, and will enhance the value of your home

Geothermal energy can be a powerful source of energy, more than wind and solar power combined

Geothermal energy is clean; by going (geothermal or geo-exchange), you save fossil fuel and green your energy

Geo thermal energy can be the next HVAC for your home
What is Geo-Thermal Energy / Geoexchange (Ground Source Heating and Cooling)
Geothermal Heating and Cooling or Geoexchange is the process of using the renewable energy from the earth to heat and cool a building by means of heat transfer. In the winter, the heat from the ground is drawn out through a series of pipes called a loop field, that are installed into the earth. A water/antifreeze solution runs through the piping capturing the warmth and delivering it to the heat pump inside the building. The heat pump then uses refrigerant to transfer the heat into the air or water that is heating the structure. In the summer, the very same ground source heat pump (GSHP) simply reverses and pulls the heat from the building, carries it through the loops, and rejects the heat into the earth. This process saves energy due to the fact that the heat pump is now dumping heat into 50 degree ground versus 80-100 degree outside air temperature.
Geothermal energy is a cost-effective alternative to gas systems. By using the earth to provide up to 70% of a building's total heating needs, GSHP (ground source heat pump) systems are truly geothermal energy made practical. Using the information about the terrain and other natural resources surrounding your home or building, we will design the most cost effective loop field as the energy source for your GSHP system.
The following are related: geothermal energy, geothermal heat, geothermal heating, geothermal pump, geothermal power, geothermal cooling, geothermal how, geothermal heating cooling, cost geothermal, geothermal heat pumps, geothermal heating and cooling, geothermal systems, geothermal disadvantages, residential geothermal, geothermal installation, advantages of geothermal, disadvantages of geothermal, geothermal heating system, geothermal electricity, geothermal renewable, geothermal contractors, geothermal hvac, geothermal renewable energy, geothermal home heating, geothermal air conditioning, geothermal heat pump installation, geothermal heat pump systems, geothermal installer, geothermal heatpumps, buy geothermal, new jersey geothermal energy, geothermal heat pump, geothermal heater, geothermal heaters, geothermal heating systems, geo thermal, geo thermal heating, geo thermal heat, geo thermal energy, geo thermal pump, geo thermal systems, geo thermal system, geo thermal heat pumps, geo thermal home, geo thermal cost, residential geo thermal, geo thermal drilling, geo thermal furnace, geo thermal water, geo thermal heater, geo thermal costs, geo thermal electricity, geo thermal plants, geo thermal solar, geo thermal company, geo thermal heaters, new jersey geo thermal, buy geo thermal, geo thermal instalation, geo-thermal cooling, geo-thermal heating. Some of the more popular variations include geo-thermal, geoexchange, ground-water, ground-water assisted, ground-water-source, water-to-water, or water furnace heating and cooling. All of these terms, though, convey the same thought: use of geothermal heat pump technology to tap the energy in the earth's surface and drive a heating and air conditioning system for both residential and commercial uses. The result is a green or natural heat pump that saves energy and benefits the environment.
NJ Heating and Air Conditioning Service Map: Passaic County, Morris County, Essex County, Hudson, Union, Middlesex, Mercer, Somerset, Hunterdon, Warren, Sussex, Bergen County, New Jersey, Allendale 07401, Alpine 07620, Basking Ridge 07920, 07939, Bloomfield 07003, Boonton 07005, Brookside 07926, Budd Lake 07828, Butler 07405, Caldwell 07006, Carlstadt 07072, Cedar Grove 07009, Cedar Knolls 07927, Chatham 07928, Chester 07930, Cliffside Park 07010, Clifton 07015, Convent Station 07961, Cresskill 07626, Demarest 07627, Denville 07834, East Hanover 07936, Elmwood Park 07407, Englewood Cliffs 07632, Essex Fells 07921, Fair Lawn 07410, Fairfield 07004, Flanders 07836, Florham Park 07932, Franklin Lakes 07417, Garfield 07026, Gillette 07933, Glen Ridge 07028, Hackensack 07601, Harrington Park 07640, Haskell 07420, Hawthorne 07506, Ho Ho Kus 07423, Kinnelon 07405, Lake Hiawatha 07034, Lincoln Park 07035, Little Falls 07424, Livingston 07039, Madison 07940, Mahwah 07430 , 07495, Mendham 07945, Millburn 07041, Montclair 07042, Montville 07945, Morris Plains 07950, Morristown 07960 , 07961, Mountain Lakes 07046, North Caldwell 07006, North Haledon 07508, Nutley 07110, Oak Ridge 07438, Oradell 07649, Paramus 07652, Pequannock 07440, Pompton Lakes 07442, Pompton Plains 07444, Prospect Park 07508, Ramsey 07446, Randolph 07869, Ringwood 07456, River Edge 07661, Roseland 07068, Rutherford 07070, Saddle Brook 07663, Upper Saddle River 07458, Short Hills 07078, Teterboro 07608, Totowa 07512, Towaco 07082, Verona 07044, Wayne 07470, est Caldwell 07006, West Paterson 07424, Whippany 07981, Wyckoff 07481