Furnace Installation & Repairs: Essex, Passaic, Morris, Hudson, Union, Bergen, NJ
Heating Tips, Furnace Replace, Heating Questions
We invite you to call us at any sign of problem with your home heating system or your commercial heating units. We will be happy to answer all your questions on furnace installations and help you decide if you need a Furnace Repair or it's time for a Furnace Replacement. However if you prefer some independent reading, below are answers to some frequently asked questions related to residential and commercial heating, ventilating, and the heating equipment we install, repair and service :
Feel free to call or email us anytime. Our contact information will direct you to one of our experts.
30 Anniversary Specials

CONTACT US TODAY

Heating Service Weekly Special
What are heating and cooling matched systems?
Heating and cooling matched systems allow enhanced comfort and efficiency, less costs, less noise, proper cycle times and controlled humidity. We are experts in furnace repair for both older and very modern, high efficiency furnace systems.
With a furnace installation, what is the AFUE furnace rating?
The federal government requires all air conditioning and heating equipment to be rated for efficiency. The higher the rating, the more efficient the model. Gas furnaces are rated for AFUE (Annual Fuel Utilization Efficiency). This defines the amount of heat used to warm your home from the burned fuel. A 90% furnace will use 90% of the available heat to heat your home. 10% of the heat is vented outdoors. When you call on us for a furnace installation or furnace repair, we make sure your equipment is tuned to work at peak efficiency. Many older gas furnaces are only 60% efficient. This is why it may be more economical to choose a furnace replacement. Heat pumps are rated by SEER for cooling efficiency and by HSPF (Heating Seasonal Performance Factor) for heating efficiency. As with other ratings, the higher the HSPF, the less energy it will take to warm your home.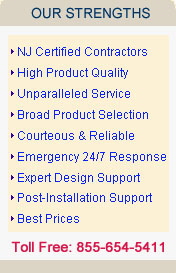 Why choose units with variable speed fans when it comes to a furnace installation?
Units with variable speed fans deliver more or less warm or cool air to your home, and keep your family comfortable in the hottest days or coldest nights. They usually operate at lower speeds, but in extreme conditions the fan speed increases to meet the demand. It is recommended that your new furnace replacement be of variable speed.
What info should I read or review with my contractor or supplier, before deciding on my new furnace installation?
First, it is important to establish if a furnace repair is all you need. However if the decision is made for furnace replacement, it is helpful to review pictures, features, capacities, dimensions, ratings, and warranty information, so that you can make an informed decision on your modern furnace installation. Our specialists are trained to explain to you the advantages of different furnace replacement options, types of HVAC systems for your home or region of the country, as well as select the right products to meet your personal comfort needs, how to achieve higher efficiency, variable-speed airflow, whole-house air cleaning, programmable thermostats, two-stage heating and air conditioning, and more.
What is a load calculation for a new furnace install?
Professionals use load calculations to size your system based on square footage, age of the home, insulation, number of windows, and year-round weather concerns. A correctly sized system (not over-sized not under-sized) will save you money, and will deliver long-lasting, reliable comfort whatever the season. A correctly sized furnace installation will also lead to less furnace repair and will delay by many years your next furnace replacement.
How many types of gas furnaces there are?
On the market are currently single-stage, 2-Stage, and variable-speed gas furnaces. The 2 stage variable speed furnaces provide greater humidity control, quieter operation, and maximum air circulation, temperature distribution, and air filtration. So if a furnace repair is too costly, you may want to consider a furnace replacement with a modern 2 stage variable speed furnace.
Where is my air filter located?
Your air filter should be located in either the blower compartment of the furnace, in an attached filter case, or in a return air grille in a wall of your home. If you cannot find the air filter, please contact us for assistance. We will simply help you locate the filter, replace it if you so desire. This will greatly reduce your furnace repair expenses.
When do I need preventative maintenance on my furnace installation?
Preventative maintenance should be done before the winter heating season. We offer maintenance service agreements that may include reduced rates on labor and parts and provide priority response. Service/maintenance agreements may include cleaning indoor and outdoor coils, tightening electrical connections, checking supply voltage and operating current, checking refrigerant charge, measuring temperature differential at supply and return registers, cleaning blower wheel and motor, inspecting and adjusting burner, checking heat exchangers, cleaning drain lines and pan, checking ductwork for leaks and insulation, and checking the thermostats. Any furnace repair needed and even a new furnace installation, will also be discussed.
What are the average life expectancies for heating equipment?
The average expected life of a heat pump is approximately 10 to 12 years, since it operates year round. The average expected life of a gas furnace or air handler may be longer. With good maintenance and professional furnace repair, you can add many years to the useful life of your furnace installation. Units in coastal environments have shorter lives and a furnace replacement should be planned fore more frequently.
How clean is the air indoor?
Houses can have a lot of pollutants inside, and the irritating particles trapped in the air can trigger allergies, asthma and other health problems. Such particulate matter can be dust, animal hair and dander, mold spores, smoke, bacteria, pollen , dust mites, lint, and cooking grease. All these can affect your family's health or comfort and need to be improved with whole house air cleaning and filtration systems.
How to control the humidity in my house?
Excessive humidity can be controlled with variable-speed air-handling equipment which runs at very low speeds, and keeps the air circulating against the cooling coil and removing much more moisture than conventional systems. At these low speeds, the variable-speed motor also uses much less electricity than conventional motors.
How to choose a furnace installation contractor?
What HVAC contractor you will choose depends on the project, whether it's a major furnace repair or furnace replacement, renovation, new construction furnace installation, an emergency or a minor service call. Referrals from friends, relatives or neighbors are a good starting point. Also of help could be local online and printed advertisements. Make a list of experienced local HVAC companies with fast response and extended hours (ideally 24/7), which are ready to accommodate your schedule, install and service the brands you have or want, are licensed and certified and have adequate insurance. Call them for estimates, and assess which one could be the right HVAC contractor for your job.
Read More....